Get Involved: CHS Clubs Are Back
Madeline Liss, HS Publications: Newspaper Editor
September 9, 2021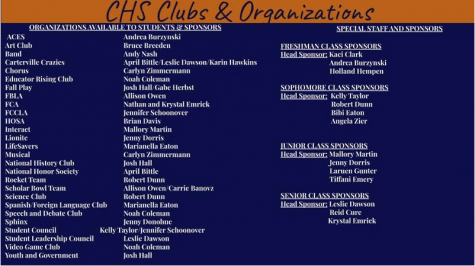 After a year of challenges, clubs and student organizations at Carterville High School are working their way back to a new normal. During the 2020-2021 school year CHS students were rarely able to gather for meetings or take part in club activities of any kind. Even for the few clubs that were allowed to operate, the scarce meeting schedule paired with the COVID guidelines and restrictions made it very difficult for students to become truly involved. However, all twenty-three clubs that CHS has offered in the past, in addition to four new clubs this school year, are now once again able to operate on a regular basis. 
Due to the absence of Power Hour, a one-hour period of the day intended for students to eat lunch, attend club meetings, and study, CHS has developed a new club meeting schedule that will take place during the advisory/lunch period four days a week. This schedule will operate on a four-week rotation, alternating each club's meeting time to ensure that all students are able to attend their appropriate clubs at least once a month. 
 While several clubs are still waiting to get started, others such as Student Council are already in full swing. Student Council Senior President, Bella Mavigliano, says, "Right now STUCO is working on all of the homecoming festivities including the pep rally, coronation, float building, the parade, and of course the dance! Almost everyone on STUCO is on a specific committee in charge of one of the festivities, and most people go down in study hall to paint signs. Obviously, homecoming is a huge part of our duties for the fall semester, but I am just grateful we are able to have in-person meetings and have a more normal year for club activities." 
Additionally, several other clubs are also excited to get started this school year, including the Health Occupations Students of America club, also known as HOSA. HOSA is new to CHS this school year and is sponsored by science teacher, Mr. Davis. Several students had expressed interest in this club in this past, so Mr. Davis volunteered to help get a chapter started at CHS, "I am looking forward to interacting with many of these students outside of class," Davis says, "I hope this year we can build a good group, and get some solid connections with doctors, nurses, and other professionals that can be a great asset to our students. In the future, competitions, regional conferences, and other trips would be fun as well!" HOSA meetings are currently held on Thursdays every other week, and the upcoming agenda consists of electing the 2021-2022 officers, allowing the organization to have more student involvement. 
Student Council and Health Occupations Students of America are only two of the twenty-seven ways students at CHS can get involved. As things slowly return to normal, students are taking full advantage of this opportunity to gather together and become involved. If you are interested in becoming a part of the club community at CHS, view the image above to see the complete list of clubs and organizations that Carterville High School has to offer.