Black Panther: Successful in More Ways Than One
More so than most superhero films, Black Panther caused a level of anticipation greater than perhaps any other movie of early 2018. On opening night, crowds of Marvel fans waited with jittery anticipation. Opening on the four-day President's Day weekend, the film earned over 387 million dollars. With a 97% Rotten Tomatoes rating, the movie received glowing praise from critics."A jolt of a movie, Black Panther creates wonder with great flair and feeling partly through something Hollywood rarely dreams of anymore: myth," says Manohla Dargis from The NYTimes. Sandie Angulo Chen from Common Sense Media stated,"Ryan Coogler's masterful superhero drama is unlike any other, featuring outstanding acting, breathtaking art direction, fascinating royal intrigue, memorable action sequences, and surprising depth." The hype for Black Panther had fans holding their breath in excitement, expectations high, and clearly, the movie delivered, full-stop.
The film is centered around T'Challa, the new king of Wakanda, a technologically advanced country in the middle of Africa. It picks up from where Captain America: Civil War left off: T'Challa's father is dead and The Avengers have separated while T'Challa is on his way back to his home country. Along the way, the viewer is introduced to Nakia, the kind-hearted spy and love interest along with Okoye, a protector of the crown and an incredible warrior. We also meet Shuri, T'Challa's hilarious tech-genius teenage sister. While T'Challa's character is regal and powerful, the women of the movie makes it stand out, offering humor and eye-catching brilliance in a way that few other characters in the Marvel Cinematic Universe can.
The film received many positive reviews from critics, and moviegoers generally enjoyed the film. "Black Panther was phenomenal. I loved it so much I saw it twice. [It had] wonderful acting, a beautiful cast, [and] a great story," says CHS Junior, Morgan Bueza. "The innovation of Wakanda and the special effects that coincide with it were very compelling." Others, however, disagreed. "Black Panther was very boring to me. I honestly didn't feel entertained while watching," comments Junior Teresa Pender.
Black Panther is additionally important because of the way it portrays Africa not as impoverished and distant, as in many typical western portrayals, but as wealthy and technologically advanced beyond America's wildest dreams. This defies stereotypes of Africa that America has created based upon the years of racism that is so deeply rooted in American society. Wakanda may be a fictional country, but it has a very real influence. No matter the viewers' feelings toward Black Panther, no one can deny the success of the film, nor the appraise it has earned.
About the Writer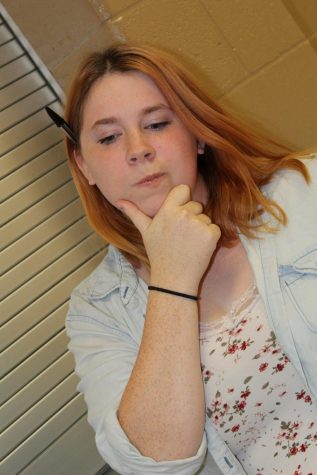 Megan Horner, Editor-In-Chief
Megan Horner is a Senior at Carterville High School. Her hobbies include art, photography, poetry, and literature. She is the Editor of The Sphinx and...