COVID-19 Versus Romeo and Juliet: Who Will Win?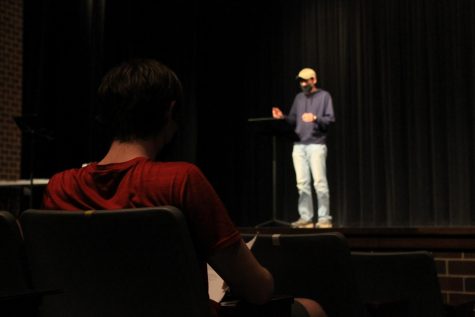 The school year has progressively changed, while making students either more or less comfortable in the classroom. While CHS has worked to make our surroundings student friendly, stress is still piling up in students' minds and schedules. Making our way through the year, clubs and organization have resumed meetings, but the fall play has taken a new approach. Hosted by Mr. Hall, the 2020 play is still a go, especially for our beloved characters, Romeo and Juliet. 
Romeo and Juliet has always been a classic, along with being a part of the English I freshman curriculum. And many people know the story and even can recite the phrase, ¨Romeo, Romeo, Wherefore Art Thou, Romeo?¨ So, while this play has been taken to new levels, this is sure going to be a memorable, new experience. 
The play is not going to be original, but a rescripted version by Mr. Hall, this Romeo and Juliet will have a few new twists. And the play is not the only thing that's changing, but also the performance itself. Every year, Carterville has made it an annual event for the entire school to go and watch the place. But this year, it will be recorded due to COVID-19 regulations. 
There are 12 characters going to be portrayed in the play, but a large amount of background characters are going to be excluded. So, while we get our popcorn ready and our computers set up, let's meet some of the cast members.
Q: Juliet, How do you get into your role? 
A: ¨I first try to recall the last time I read and watched Romeo and Juliet. I really focus in on the character Juliet is trying to portray in both of these. Then once I figure out what is happening in the scene based off of the translation and apply the emotion that atmosphere gives off. but honestly, I try to act as naturally as possible when reading my part, and Juliet comes somewhat naturally¨ said Hannah Lavender (10).
Q: Are you excited about the turnout of the play, Romeo? 
A: ¨Yes, for sure. I do this for fun and I don't really think of this as something not worth doing. And I can't say I really care about the turnout of the play; I just know my friends and I had fun doing it¨ said Noah Adams (12).
Q: Montage, What challenges have you faced this year with getting prepared and motivated? 
A: ¨I have stayed motivated by having fun with my friends and making the most of the time together¨ said Connor McCague (11).
Q: Friar Lawrence, what are some of the pros and cons you have noticed of this year with the play? 
A: ¨Obviously one of the major cons of this year is the whole COVID situation. However, we are made by work and it is going really for the challenges we have faced¨ said Charlie Howerton (10). 
Q: Are you upset about the play not being in person, or is this a change that you don't mind? 
A: ¨I can't say I mind that it's been changed to a recording because it is the only responsible way to have the production and still have play.¨ said Tyler Shasteen (11). 
While the play is going to have some major changes, the cast is constantly preparing for the recording of the show. The fall play will be coming out soon and when it is ready it will be on the CHS website.
 2020 has given us multiple situations that have changed how our school year, let alone lives, have been, and bringing back our play is a way to receive a hint of that normality. 
¨It has been a great pleasure to work with this year's cast and crew.  Although each production is unique and special in its own right, this year will always stand out.  First, this is our 10th season for a Fall production here at the current CHS and, second, the willingness of the cast and crew to work together and independently to make this year's production happen has been truly enjoyable to watch.  Though these are unprecedented times, I'm glad Mr. Herbst and I were able to help students achieve another production success here at CHS." said Mr. Hall.
So, cast members, go break a leg, and as for the audience, let the show begin!