Carterville Football: Back On the Green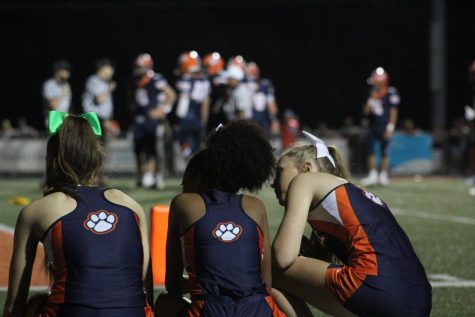 The Carterville football team has gathered its players and has started preparing for the season. While last year was a struggle due to the overwhelming COVID outbreak, this year, the team is trying to get back its normality. The first game of the season started on Friday, August 27th playing the Benton Rangers, ending with a devastating loss of 23-6. Riviving themselves and their reputations, the Lions beat the Herrin Tigers 46-6 on their home turf the following week.
The football team started their practices in early summer this year, with an overall total of 42 players. While for some athletes it is nothing new, the sophomores have moved up to playing with the upperclassmen. Braden Wakey (10), wide receiver and defensive back, has personally felt this new change. "Being a part of the varsity team has been more than what I expected. At the varsity level, the upperclassmen are always finding ways to get better and help each other win. This varsity group we have is very special, they just get along with each other so well and are so talented that they have potential to be great." Like Wakey, the win against Herrin has started the season off with high hopes.
Herrin is commonly known for being one of Carterville's biggest rivals. Being the first home game of the season, the team and fans took this game very seriously. After the loss at Benton, getting their heads into the game was a must. "One thing that I noticed was our energy in practice improved," stated Ayden Brown (11), offensive/defensive linemen. "Our guys knew it was a big game, so we played like it in practice. We were able to fix some sloppy mistakes and really play more as a team." The practices leading up to the win were different, and athletes brought a new energy to the field.
As the season progresses, the team will continue to battle any adversity. Eleven seniors this year will push their teammates to hopefully end with a winning record. Ethan Lannom (12), running back and linebacker, has a positive outlook for the oncoming games. "I am really looking forward to seeing how we perform after the big win against Herrin. If we can keep the momentum going, we could have a really good season," The big win was a turning point for all of the players, despite it being early into the season. Lannom continued, "One thing unique about this year's team is the bond between everyone. We all support each other and want to see each other succeed." The connection amoungst players will be the biggest factor in the future success of the season's outcome.
With seven remaining games, the Lions football team will continue to work hard in practice and build their relationship with each other. Next week, September 10th, they will play at Murphysboro for a possibly strenuous game.