Carterville Softball: A Legacy
Carterville High School softball: hard-working, perseverance, talent. These are just a few words that anyone who knows about the Carterville High School softball might use to describe the program. Out of the three state titles Carterville High School has achieved, two of them are from the softball team. Along with two state titles, in the last eleven years, Carterville softball has had 8 Elite Eight teams that make it to the IHSA Super Sectionals.
Head Coach, Will Capie, has been involved in the Carterville Softball program for 11 years (6 as an assistant coach and 5 as the head coach). Capie knows that great things are expected of the Carterville softball team and he encourages these expectations. He became the head coach of the softball team after former head coach, Brett Diel, stepped down to be the Athletic Director of Carterville High School. Capie assumed the great responsibility of leading the 2016 softball team (and future teams, of course). With this responsibility, he helped the team claim a state title in his first year of being the head coach. Unlike the 2016 team, Capie wasn't given a team with a lot of upperclassmen in 2019 . He also wasn't given the same talent that the 2016 team had. Capie said that, for the 2019 team, "Experience is something that we are going to have to gain throughout the season. We have a young team and by the time May rolls around we need to be ready to compete through regionals."
For the 2019 season, Carterville has a small, young softball team. With only 14 players, in the first month of this year's season, the softball team has experienced what some might call "adversity" due to a small roster and injuries. However, the team works around these disadvantages and perseveres. Senior shortstop, McKenzie Rogman, says that, "The team's greatest strengths are the ability to work together. The ability to pick one another up after a mistake." Having both a positive attitude and encouraging teammates are very important. The idea of family is a huge aspect of Carterville softball. The coaches preach positivity and encouragement to the girls. McKenzie Rogman said, "The standing joke on the team is 'the little things' because Capie tells us everyday that we need to focus on the little things to be successful."
While the Carterville softball program does help young ladies to become better players, it also helps to make these girls better people outside of softball. "Being an athlete makes me a better person because it teaches me how to not only be good in a sport, but it teaches me about life", said senior catcher, Summer Rains. Most of these girls have been together since tee-ball so they've become very close and have considered each other as not only teammates or friends, but also family. McKenzie Rogman gave some insight into how being a part of the Carterville softball program has made her a better person: "Through ups and downs this team has been there for me… I've seen what it's like to have a family outside of your normal family you live with. It's truly a blessing". The team spends a lot of time together and, as with any group of teenage girls, there have been fights, arguments, and beefing. But, through all of this, the girls always support each other and treat each other as family.
Carterville softball has a long, successful legacy and the program doesn't plan on ending that legacy anytime soon. To be a part of the Carterville softball program is to be a part of a family. A family that is always supportive and encouraging of one another.
About the Writer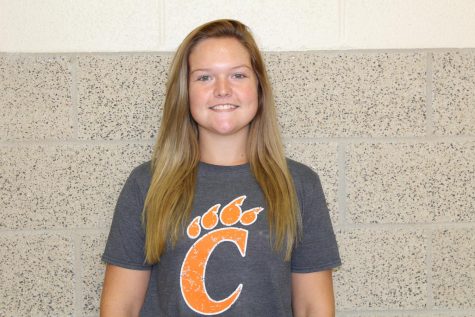 Tomi Boggess, Writer
Tomi Boggess is a junior at Carterville High School. She loves to play softball and spend time with her friends. Tomi enjoys being involved in her school....