Basketball is in her Veins
Hang on for a minute...we're trying to find some more stories you might like.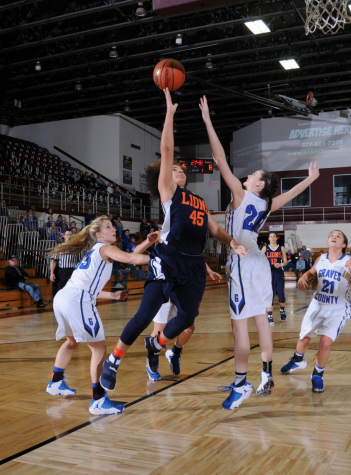 Carterville High School is filled with many courageous and hard working athletes and no one works harder than junior Jeniah Thompson. Jeniah has been playing basketball for three years and plans on running track for her third year this spring. She is very hardworking, and she takes pride in the fact that she plays for Carterville.
Jeniah has been a starter for the high school girls' basketball team since her freshman year. She has a lot of talent which she continuously shows on the court. One of her close friends, another junior, Abbey Crain said, "Jeniah is an awesome teammate. She is my best friend, and I think she will be very successful. She is going to go on and be a D1 athlete. I am going to miss her so much when she goes off to college; I am currently crying." Abbey and Jeniah have been good buddies since Junior High when Jeniah moved to Carterville and both went out for basketball.
Additionally, Jeniah has been a major key to the team ever since she stepped foot into high school. She has helped them to many victories. Certain teams have been tough competitions, but no one has shut down Jeniah. She continuously drives to the basket past the defense and scores. According to Jeniah, "I think the team looks good. Our chemistry is better this year and we're more together." The girls' basketball team has a chance to make a run this year, farther than Sectionals, which is where they have been stopped the past couple years. Jeniah was asked what makes basketball special to her and she explained, "It's a combination of many things. I like being a team player, and sharing the basketball and getting everyone involved is a good feeling. Basketball is special to me and I plan on playing basketball in my future for college." Since Jeniah is very confident in herself and her teammates, she is an example of a great teammate.
The team has set many goals this year and they have already began being the talk of the town. The Lions are going to surprise a lot of people so make sure to catch a girls' basketball game this season. Look out for number forty five as she will not be hard to miss. She will be one of the main reasons you come back and watch another game.