New Possibilities for the History of Journalism at CHS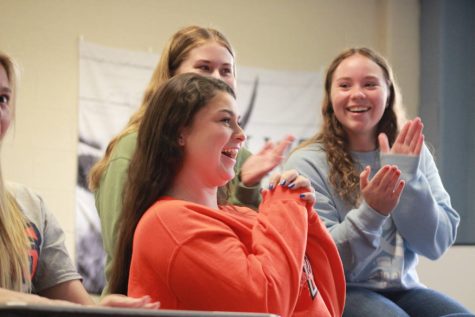 On April 1, 2023 seven of the 12 members of the publications staff and one member of the Sports Reporting class competed in the IHSA Journalism Sectionals event. Competing students picked an individual competition to compete in with a set time limit. Sectionals were hosted virtually this year, so participating students met at the high school in Mrs. Dorris' room.
Students prepared for their event in the weeks prior by practicing different ways to complete their event. With some new and some returning participants, students were up for the challenge. Seniors Paige Mausey, Kayce Glenn, Fallon Carney, junior Danielle Scott, and sophomore Hailey Bolen competed in sectionals this year after moving on to the state competition in the previous year. Seniors Rylee Davis, Ashlyn Harris, and sophomore Nevaeh McClellan competed for their first time.
All events are competed in individually with a 90 minute time limit. The exception to these guidelines comes with the Yearbook Theme Development category. In this competition, up to two people can work together over a four hour time period to create a cover, endsheet, title page, opening spread, and divider yearbook pages all to match a given theme. Mausey and Glenn competed in this event for their third year in a row for sectionals.
Bolen took on the role of competing in a new event to her this year. She decided to compete in the headlines event, which is nothing new to her, but took on the task of additionally competing in Newspaper Design. Bolen says, "Going into my second year of this competition, I was chosen to do something new which was Newspaper Design. I think that with the time that I have, I will be able to put my all into it and try to come out successful like last year. Otherwise, I'm not too stressed about headlines since I did them last year. I expect myself to not freak out and to take things at my pace before the time runs out."
Carney, like the other seniors in the class, competed in sectionals for the last time of their high school career. Carney says, "I'm really excited to be competing again. Of course, I'm a little nervous, but I know when we get going, everything's going to be good and we're gonna have a great time."
On Thursday, April 6th, the qualifiers for state were announced. Only the top three places in each sectional of each event can move on to the next competition. Rylee Davis placed first in the advertising category. Additionally,  Hailey Bolen placed second in headline writing and Paige Mausey and Kayce Glenn placed first in yearbook theme development.
Glenn, looking forward to her last state appearance for journalism, said, "I am very thankful Paige and I are getting the opportunity to go to state again for the second time. Being able to create a footprint in history for journalism at CHS is a huge accomplishment and I am excited to be able to represent our publications staff." 
The IHSA State Journalism competition will be held in person at Heartland Community College in Normal, Illinois on April 21. The girls that placed will make their way up to the competition Thursday after school to be ready to compete Friday morning.