Old Hollywood Coming to Carterville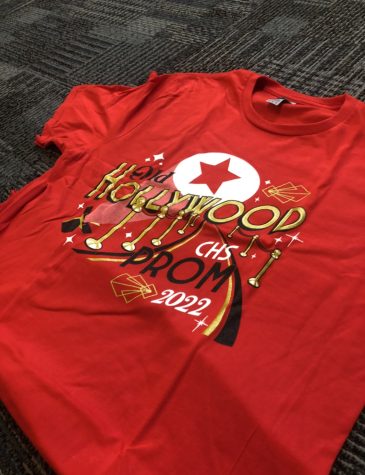 Students are getting ready for one of the most memorable nights of their high school careers. This year, the CHS Prom Committee chose the retro-themed "Old Hollywood." With a purchased ticket, students will be given a free t-shirt and an option to attend after prom, where everyone will be able to enjoy the rest of the evening hanging out with friends.
This year, members of the prom committee have worked hard to create the perfect evening, meeting every other week to discuss ideas and decorations. The group made lots of big decisions, like the theme, playlist, and location, but also smaller details like the t-shirt design and table centerpieces. "This year's prom committee has been working hard on raising money to put on the best prom we can. We have the best sponsors who have given us so many opportunities and allowed us to do almost every idea we have had" said Junior Rylee Davis, a member of the committee.
The club made the Carterville community a part of the prom by asking for donations and sponsorships.  This was a great partnership on behalf of both prom and the community businesses. Davis continued, "This year's prom will be on a whole other level, with tons of great old Hollywood decorations and an exciting after prom for all to enjoy." 
Opening with Promenade, students will get to dress up in their dance attire and be announced with their dates. With big Hollywood-themed signs behind them, and huge posters hung up everywhere, it will give the perfect taste of Old Hollywood before the dance starts.
After being announced, students will go to the White Pines Event Center and meet up with their classmates. Set up in dazzling, glamorous decorations, like Grammy centerpieces and stars representing the "Hollywood Walk of Fame," students may forget they are actually in Carterville. The night begins at 8:00 pm and ends at 11:00 pm when students are dismissed and able to attend after prom. 
"I cannot wait to see people's dresses, eat food, and have a fun time taking pictures with my friends," said junior Lauren Lynch, a future attendee of the dance. The prom committee has also planned to have lots of snacks, like popcorn, chocolate fondue, and ice cream, so students will have a large variety of snacks to choose from. 
After the dance ends at roughly 11:00 pm, attendees are given the option to attend an after-party back at Carterville High School. In the school gyms, bouncy houses and games will be set up for students to enjoy.  After prom will continue until approximately 2:00 am when students will be released to go home for the evening. "I think, considering the fact that this will be our first normal prom in a couple of years, it is really exciting in general! On top of that, I think prom is really going to be outstanding due to our amazing venue, White Pines Event Center. And all of the plans the prom committee has spent months working on." said Sophomore Gabe Landon, an honorary prom member of the prom planning group. 
In addition to students like Landon, so many students who have worked hard to get the prom together are excited to share their hard work. Mrs. Emery, an advisor, also added, "I am so excited to finally have a "normal" event! We have all missed out on so much because of Covid, I am glad that students get to experience one of the best events of their high school career. I have so many fond memories from my proms! I can't wait for the students to have the same, great experience!"
With the days counting down, the anticipation for prom is growing. Many students are looking forward to a fun evening filled with amazing memories. With high hopes of a successful event, students are excited to get the "show" on the road.