We All Scream For Ice Cream: Downtown Dip Officially Open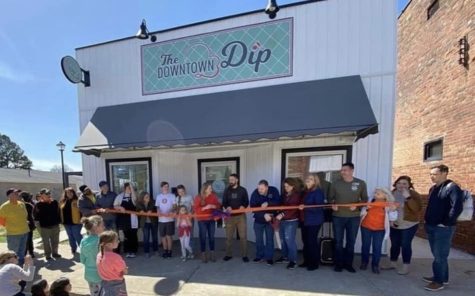 After announcing its opening nearly a year ago, Carterville´s very own locally owned and operated ice cream shop, The Downton Dip, had its grand opening the weekend of March 25th and 26th of 2022. The shop is owned by the Carterville family, the Wagners, who worked exceedingly hard to get the shop up and running. Owner Faith Wagner says, ¨I chose to build an ice cream shop in So IL after falling in love with the people of Carterville but wishing there was a better Downtown experience available. While wishing for this, I also was wishing for a safe and happy place for my three teenagers to have their first job and learn some life skills and work responsibilities. I wanted this for the other amazing teens as well and finally decided I would create the place!¨
In addition to wanting the shop to be a safe and fun new addition to the town, Wagner wanted the shop to provide opportunities for employment for local students. Senior Leioni Bickett is just one of many Carterville High School students who works at Downtown Dip. She responded, ¨I honestly love it. I am friends with all of my coworkers, and Faith is the best boss! It´s just a really fun and positive environment to be in. It [opening weekend] was great! Super busy, but that´s a good thing for us. The community seemed to be brought together, and there were many familiar faces.¨ 
Residents of Carterville have anxiously awaited the arrival of The Downtown Dip and were excited about the opening. Sophomore student Adyson Shephard visited the shop on Thursday and Friday night and says, ¨It was such a cute place and a great environment! The ice cream was so good and the workers were really friendly!¨ Overall, the opening weekend was very successful with a line of customers far out the door. 
In order to make the already exciting weekend even more fun, The Downtown Dip also held several contests for the town to compete in including the ¨Banana Split Contest¨ to see who could hold the splits the longest,  the ¨Holy Cow¨ ice cream eating contest, and a scavenger hunt in addition to several others. One winner of the split contest was sophomore Hannah Murray who held her splits for over fifteen minutes. Murray said, ¨It´s pretty cool to be the winner of the contest. The only hard part about holding the splits was that it was cold but other than that it was pretty easy. It was worth my time too because I got a free banana split!¨ 
Reflecting on the long-awaited opening weekend, Wagner was very proud of the turnout. She said, ¨I have felt overwhelmed with gratitude and excitement because of the tremendous support from the community on our Grand Opening weekend.¨ 
The shop sells a variety of ice-cream-related treats including super-premium ice cream, waffle cones, cookie ice cream sandwiches, pazookies, sundaes, banana splits, and their original ¨Cannonball.¨ This spring the shop is scheduled to be open from 2 pm-9 pm Monday through Thursdays, 2 pm-10:30 pm on Fridays, and 12:30 pm-10:30 pm on Saturdays. If interested in learning more about the new addition to Carterville, visit their Instagram page @downtown.dip for all future updates.