Taking a Step in to Prep: the SAT and ACT
Hang on for a minute...we're trying to find some more stories you might like.
The most hated acronyms in the High School population: SAT and ACT. Whether you've prepped since you were in junior high or haven't thought about it at all, nobody enjoys taking standardized tests. They take forever, they hurt your brain, and they're a pain to prepare for. There's so much information to try to cram into our brains that it seems almost impossible to completely prepare yourself. It's like everyone is receiving the "Not Enough Storage" notification from their brain. Have no fear though, even if you're a little late to start studying, there's still time! So, if you're struggling with studying or you just need some extra practice, here's some tips to help you down the dreadful road to getting a good score on the SAT and/or ACT.
TIP #1: If you haven't started studying, START NOW!
Like they say, "Better late than never." Anything is better than nothing and even if you only study a little bit, a lot of the questions on these tests are based on the same idea with different context.
TIP #2: Ask questions!
There are so many people to ask questions about the SAT and ACT. Ask your teachers if they have any extra prep handouts or books that you could borrow. Teachers also know a great deal about what these tests are like. You could also ask siblings or friends that have taken the tests what to focus on when studying.
TIP #3: Go online
Some of the best help you can find is on the internet. If you're unsure how to do a math problem or you don't quite understand science related topics (there is a science portion on the ACT), look it up! There are so many different resources on the internet that you can use like Khan Academy, College Readiness, Kaplan Test Prep etc. (a list of online resources will be attached at the end of this article).
TIP #4: Tutoring
You'd be surprised at how many people are willing to help you through the study process. Ask around school or friends and find out who can help you with your deficits. There are also online tutors like Varsity Tutors and Wyzant. Teachers may also be willing to work with you during and outside of school hours.
TIP #5: Prep books
There are so many SAT and ACT prep books out there. Amazon and Ebay have a huge selection of standardized test books to choose from that range in prices.
TIP #6: Try not to cram
Studies have shown that it is more rewarding to prep through a study plan than to cram before a test. Spread out your studying over an extended period so your brain has time to fully understand a concept. Sean Kang, a featured scientist at Temporal Dynamics of Learning Center, said that "students should endeavor to begin their exam preparation early, giving themselves sufficient time to space out their study sessions and engage in retrieval practice, so as to improve long-term retention of the material" (Kang).
TIP #7: Don't overwork your brain
While studying for a test, it is easy for some people to try to get a large amount of information at once, believe it or not. This is unhealthy for your brain and can cause stress.
TIP #8: Use what works best for you
Not everyone learns the same way. Sometimes people use multiple different studying strategies, and while this might seem like it helps, it really doesn't. Test out different forms of studying and see which strategy works best for you. Notecards, study guides, practice tests, and saying things out loud are all strategies that are beneficial to different people.
TIP #9: Create shortcuts
While studying, associate different concepts to memories, acronyms, or whatever else you think of to remind yourself while taking a test. Think of these as sort of triggers, so when you're looking at a question, you'll recognize it and think of those memories, acronyms, or whatever helps to remind you of those things.
Tip #10: Know your formulas! (ACT math)
Junior Charlie Hagan, who has already taken the SAT and ACT, said "When taking the ACT, students need to be sure to know all formulas that might be used in the math section (especially when dealing with 3D figures) because the test is formula driven." The ACT does not give you a formula sheet like the SAT does so you have to know all of the formulas before hand.
When taking any standardized test, you should always prepare. It may seem like it's not important but in the long run it will help get into colleges. It not only helps with your knowledge, it helps with your time-management skills and your overall testing abilities will improve. Preparation is the key to getting a good score. Don't overthink or make it complicated, just practice and strengthen your weaknesses as much as you can before test day.
Work Cited
Kang, Sean. Ask the Scientist, Regents of the University of California,tdlc.ucsd.edu/tdlc2/news_scientist_Kang.php.  Accessed 21 March 2019.
About the Writer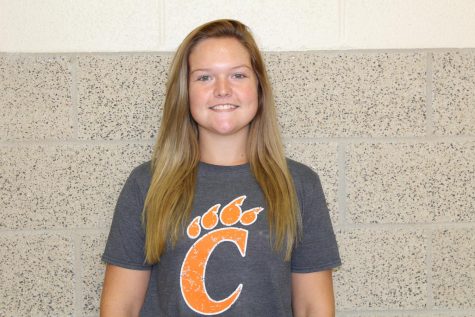 Tomi Boggess, Writer
Tomi Boggess is a junior at Carterville High School. She loves to play softball and spend time with her friends. Tomi enjoys being involved in her school....