About
The 2017-2018 H.S. Publications class at Carterville High School in Carterville, Illinois.
2020 Census Citizenship Question Sparks Controversy
April 19, 2018
For the first time in over fifty years, the United States Census will ask every American household a question regarding citizenship.  The Department of Justice requested this addition as a way to collect data about voting age Americans to better enforce the Voting Rights Act.  However, this new question has created controversy amongst many Americans. Although it is illegal for the Census Bureau to share census results with immigration agencies or law enforcement, many people fear that immigrants may avoid responding to the census due to fear of deportation.  This is a problem, because if immigrants avoid answering the census, the immigrant population could be undercounted and therefore, many states would have inaccurate data regarding their population. This means these states could be severely underfunded, or have reductions in their number of federal congressional seats. The attorneys general from seventeen states: Connecticut, Delaware, Illinois, Iowa, Maryland, Massachusetts, Minnesota, New Jersey, New Mexico, North Carolina, Oregon, Pennsylvania, Rhode Island, Virginia, Vermont, and Washington have all agreed to join the lawsuit.  Six cities: Chicago, New York, Philadelphia, Providence, San Francisco, and Seattle; along with Washington D.C. have also joined the suit. New York Attorney General Eric Schneiderman, who is leading the lawsuit, stated, "This is really just an effort to punish places like New York that welcome immigrants, that are accommodating to immigrants and embrace the American tradition of open arms for all."  Schneiderman's home state of New York could potentially suffer a loss of electoral seats and billions of dollars of federal funds due to a misrepresentation of its population size. Many civil rights groups, such as the NAACP, have also spoken out against the addition of this new question, some even claiming that the Department of Justice is actively attempting to misrepresent the Hispanic community.  Tom Saenz, the president of the Mexican American Legal Defense Fund, stated, ""I think the main motivation is to secure an undercount...Texas is a very red state. They know that is not going to be the case for very much longer." Supporters of the inclusion of this question argue that its addition will not cause as great of a change as many people expect, but for now, the new citizenship question still continues to spark political controversy. Contributed By: www.npr.org/2018/04/03/599159295/17-states-7-cities-sue-to-remove-2020-census-citizenship-question www.nbcnews.com/politics/white-house/17-states-sue-trump-administration-block-citizenship-question-2020-census-n862406\ www.pewresearch.org/fact-tank/2018/03/30/what-to-know-about-the-citizenship-question-the-census-bureau-is-planning-to-ask-in-2020/
April 19, 2018
One of the most anticipated meetings of the year is going to take place in May, when Donald Trump will meet Kim Jong Un to negotiate peace and the denuclearization of the Korean Peninsula. A source for the New York Times revealed the meeting was organized by South Korean President Moon Jae-In, and that he has worked as a mediator between Kim Jong Un and Trump over the past few months. The meeting will be the first time the United States and North Korea have had any formal dialogue since the North Korean Nuclear Deal was signed in 1994. Many countries around the world are relieved by the prospect of dialogue between the two nations. Of these countries, none are more relieved at the possibility of peace than South Korea, because it stands to lose the most in a war between the United States and North Korea. Tensions between the two nations have gotten worse over the past year, partly because both are led by two of the most controversial heads of state in the world. The LA Times quoted Trump in a press conference in August of last year saying, "North Korea best not make any more threats to the United States, they will be met with fire and the fury like the world has never seen." Due to extreme rhetoric from both sides, many political scientists expected war to break out in early 2018. Although, in a shocking move, Kim Jong Un called for dialogue with South Korean President Moon Jae-In this past January. South Korea agreed to the talks and struck a deal to form a united Korean team in the 2018 Winter Olympics hosted in Pyeongchang, South Korea this past February. Tensions have cooled down significantly since then, to the point where Kim Jong Un has called for the peaceful reunification of the two countries. Then, this month, Kim Jong Un said he was willing to end North Korea's nuclear program if Donald Trump and the United States stopped its imperialist threats toward his country. Right now, Donald Trump, Kim Jong Un, and Moon Jae-In are discussing the conditions for the meeting, the outcome of which could either lead to peace or total war.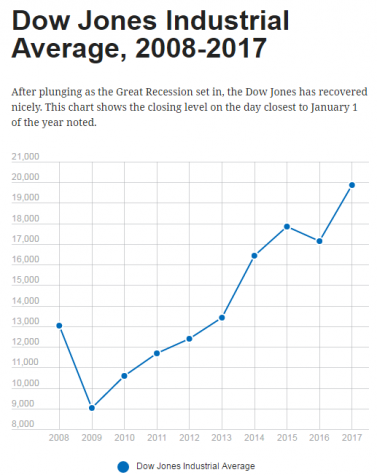 The End of Trump's Economic Boom?
March 20, 2018
In 2008, the economy went into a deep recession and the value of stocks in the stock market plummeted.  Although, the economy and value of stocks have been steadily growing over the years.  In the graph from PolitiFact shown above, you can see this change.  The Dow Jones Industrial Average has reached 90 consecutive record breaking highs since Donald Trump was elected on November 8, 2016, showing the most economic success in such a short time since the Roaring Twenties.  Dow Jones is a publishing company that measures the amount of money in the stock market and the average value of stocks in the market.  The stock values are now higher than they have ever been before.  This has translated into other aspects of the economy, with unemployment at its lowest point in decades.  African American unemployment, specifically, is at its lowest point in history at 6.8%. However, many economists predict it is only a matter of time before the economy goes into another recession and the value of stocks will fall.  Economists have used the recent rise and fall in the total value of stocks as a foreboding sign of this.  For the past few months, Dow Jones has had a 600 point increase one day, and a 1,000 point drop the next.  Although, some economists are skeptical if this is a sign of another recession.  They believe that the investors who pulled their money out of the stock market will invest back in it after some time.  The stock market may begin increasing in value again after investors adjust to the Federal Reserve's rise in interest rates.  President Trump believes the success of the stock market is just beginning.  He believes American gross domestic product, along with the value of stocks, will continue to increase throughout his presidency.  Only history will tell whether or not the stock market surge will continue.  All we can do now is wait for what will happen next. Contibuted By: www.marketwatch.com/investing/index/djia www.barrons.com/articles/markets-now-its-a-good-morning-when-not-much-is-happening-1520514617 finance.yahoo.com/quote/%5EDJI?ltr=1 www.politifact.com/truth-o-meter/article/2017/mar/01/did-trump-inherit-mess-8-charts-show-otherwise/