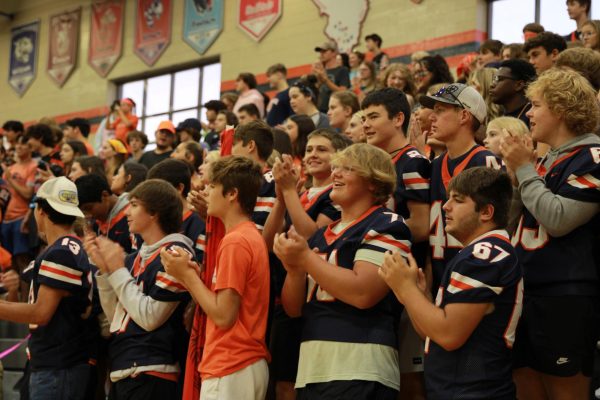 All fall, students across CHS wait in anticipation for homecoming. As they prepare their outfits, make plans with their friends, and put together spirit day costumes, clubs all around the school scramble to arrange their best homecoming. They plan everything down to the smallest detail, from the dance to the football game. Given a concise time frame to organize and execute one of the most important events of the school year, it's impressive that these students can pull it off. However, despite all the hard work they contribute to making homecoming memorable, their efforts often get overlooked. 
It all begins in the community room with a student council meeting, where the board members and class representatives discuss the details of the upcoming week. Student Council decides on a theme and spirit days, plan decorations, schedule a parade,  makes a playlist, gets sponsors, and so much more. "It's an enjoyable time," says student council member and CHS sophomore Katie Yocum, "everyone has something to work on to make sure it all goes smoothly." Katie explains that the student council splits into "committees" to plan everything, with board members and class representatives leading the groups. "There's a parade committee, a dance committee, a music committee, a pep rally committee, and much more. It's a great system to ensure everything is finished in time."
Once the events are planned, it's time to put it all together. On the Friday of the pep rally, while students are waiting to be dismissed from class, student council members decorate the gym with streamers and balloons. The pep rally committee has arranged the performances in advance, methodically planning and executing each production. Then, it's on to the parade, where student council sponsors Mrs. Emrick and Mr. Coleman walk with student council members through downtown, eventually circling back to clean up once everyone has left. Immediately after, all student council members return to school to set up the Homecoming dance. 
The dance committee has already ordered decorations and mapped out their exact locations, ensuring each piece is in its place and making the setup efficient. Even after the dance had ended, student council members stayed behind to help with the cleanup. "The whole week-especially Friday- is a mess and busy, but it's worth it because it's also entertaining, and the dance turns out great," said Katie. Despite the time constraints and many issues that inevitably arise, the student council does an excellent job arranging every aspect of Homecoming.
This year, a there was a returning way to participate in the homecoming festivities: hallway decorating. Each class was given a designated hallway to decorate according to the "Dance Through the Decades" theme. "It was new to me" says freshman Kileas Peairs "but it was really fun." The hallways were decorated in true retro fashion, with images of famous 80's musicians, beloved movies, and more.
There cannot be a dance without decorations, which CHS's artistic clubs design and create from scratch. "Art club makes props and table decorations for homecoming," said Cheyenne Cockrum, a long-time member of the art club. Cheyanne says that the art club works on the decorations for homecoming well in advance but still struggles to pull it all together on time for the dance. 
One way the art club manage to complete this task is with the help of a set building class. Set building is a new installment to CHS's classes but has already begun to assist the art club with some of their homecoming projects. "Set design contributes quite a bit to the development of homecoming" Says Logan Ford, a student in set building class, "we make the majority of the decorations and props there."
With so much to do and such a limited number of students to do it, it can be a demanding task, especially if things do not go according to plan. "With so many setbacks such as delay on materials, we've had to work hard," says Logan about the stress of homecoming week in his set building class. 
With so much to do and so little time to do it, teamwork is essential to the success of both clubs. "We work together as a team," states Cockrum about the work environment in the art club.
Logan also emphasizes the importance of teamwork in such a stressful situation. "There are many good people who know how to help out," he says. Despite the challenges they face trying to finish all the props on time for the Homecoming Dance, the two clubs find a way to get it done by working together.
In all the excitement of homecoming, we often overlook the hard work of our peers who make it happen. By teamwork and dedication, they can make the week of homecoming memorable for everyone. Without the talent of CHS's best artists in the art club and set building, the homecoming hallways, floats, and dance would not be as decorative as it is.
On top of this, everyone who participates in homecoming week benefits from the student council's hard work, especially that of the committee leaders. CHS students and staff members celebrate the success and acknowledge all the effort every school sponsored group put into making homecoming memorable for everyone.