Lion Offense Ensures Win Against Panthers
CARTERVILLE- The Lady Lions softball team delivered a devastating loss Tuesday night to the Pinckneyville Panthers who bested Carterville in the Sectional last year. The Lions short-gamed the Panthers in the 5th inning, sneaking in one final run to end the game 12-1.
The Panthers started out strong at the top of the first by scoring a run in the first few minutes of action. The Lions answered back by scoring three runs in the bottom. Lacie Carr hit a double for the Lions to start off a rally that never ceased. This was followed by an RBI by Kennedy Rushing and another by Maddie Rosenberry.
"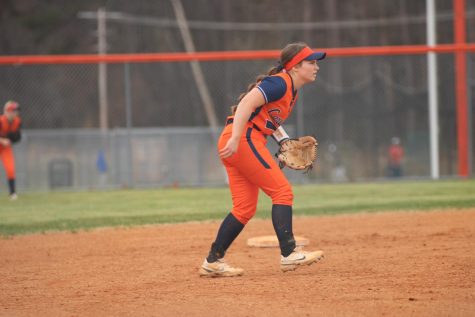 It is always nice getting a win, especially against a quality team. I'm looking forward to seeing how our team can continue to improve and play like that every game.
— Hunter Noto
The Lions continued to boost their lead for the next 4 innings. They amassed 14 hits through the five innings of play. Karson Caudill continued her hitting streak with a triple; Hunter Noto also drove in an RBI to make the score 7-1 in the third.
The Lions next game is against DuQuoin, and a round-robin on Saturday with Herrin and Carmi-White County.