CHS Girls: Season in Review
The Lady Lions dominate the court no matter what their sport. During the 2021 competitive winter season girls basketball, poms, and cheer all advanced to the highest level of competition available in their sport. Each team was able to complete their seasons regardless of the impacts Covid-19 had on their season. The number of games were shortened and performances were virtual, but the lady lions were never bested.
The girls basketball team, led by seniors Averi Vanderzille and Olivia Cecil, finished the season out with a record of 14-2. Under the direction of new coaches Todd Rogers, David Russell and Krystal Emrick, the Lady Lions have finished their season as conference champs. With the shortened season, due to the pandemic, the conference championship was the highest state ranking available this year. 
Senior Averi Vanderzille stated "This year was different in so many ways for our team, the biggest one being that we had little to no time to prepare for the season. We did not get a proper summer season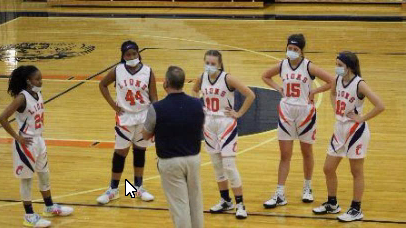 and we were thrown into games less than a week after we started practices. Coach Rogers really focused on us sticking together and just playing the game since we had little time to prepare plays and game plans. The masks were difficult to work with at first, but I was just glad we got to play so I was willing to do whatever was needed to do so. I can say that even though it was crazy, this year was one of my favorite seasons I have had. I feel like I grew as a player this year and my teammates all helped me gain confidence each game. We worked together on the court and got some big wins, and off of the court we were a family. I would not trade anything and all the memories I made in  such a short time period. Ending 14-2 and being conference champs is such a successful season. I can't wait to come back and watch the girls next year and see all that they accomplish." 
CHS Poms also completed an extraordinary competition season. New coaches Lori Smith and Amy Beach along with senior Katie Kuntze led the team of 16 girls and one guy to State. After 5 virtual performances, the team competed in the Illinois Drill Team Association (IDTA) category of AA Pom, where they won the State Championship.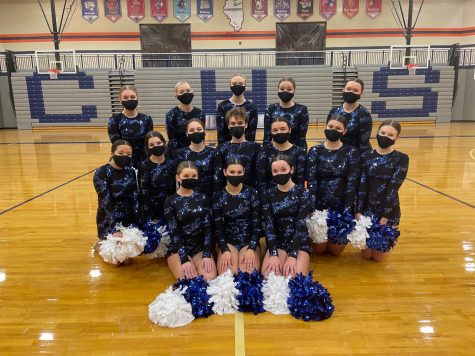 "I think the hardest part of this year was keeping the morale of the team up. It is easy to perform for a crowd with everyone cheering for you but virtually, with no live audience, it makes it hard to want to put on your best performance. As a senior, I am grateful to get to perform in some way but really miss all the times traveling with the team and the loss of so many traditions that make the dance team so much fun" said senior Katie Kuntze.
It's no surprise that Carterville High School's Competitive Cheer Team has had a successful season. Coaches Linda Drust and Amy Drust, coming off of their State Championship season, led their team to 7th in the state. Seniors Emily Perry, Kealan Conover, and Annie Mitchell helped the team overcome all obstacles throughout the season. 
"This year was definitely different, the set up of the whole year without stunts was unfamiliar. Trying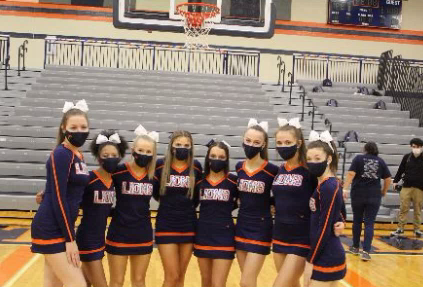 to introduce high school cheer completely different but we pushed through to do the best we could with what we were given. As a senior, I definitely had to (along with Emily and Kealan) step into a leadership role but we had a great team and I couldn't have asked for a better group of girls to be a team for my senior year" said senior Annie Mitchell. 
The obstacles 2021 have no doubt shown that the Lady Lions are not afraid of what gets in their way. The girls of CHS have always been fierce competitors when it comes to academics and sports. Never underestimate the girls of CHS as they truly have hearts of a lion.