Finals: Freshman Prepare for End of Semester Exams
As the fall semester comes to a close, students and teachers will soon be preparing for final exams. Carterville High School students will take finals on Wednesday, December 18th and Thursday, December 19th.  Make-up exams will take place on Friday, December 20th. For the upperclassmen, finals are nothing new, however, the freshman class will be experiencing these exams for the first time. Just the thought of finals can cause anxiety and stress in many students.  Paige Mausey, Freshmen, expressed her nervousness in preparing for these exams. "My concern is how many tests we have to take each day. Preparing for multiple tests seems overwhelming. I just want to feel prepared for all of them since they practically determine my final grade."
In most classes, semester exams are weighted, or worth more, than classroom assessments. Many finals will cover an entire semester of work and will require students to prepare differently than a typical chapter test.  Mausey adds, "It is just hard to remember everything you learned even though we've gone over it all year.  It just seems stressful to study for all of them at one time." Like Mausey, many freshmen are in the same position.  Taking the tests are not the main concern, but rather, preparing for them with limited time.  Hannah Lavender, also a freshman, agreed. "I just have some classes that I don't know how much to study for. I have some classes that are harder than others and I just don't want to overlook anything."
While final exams vary by the teacher and subject, the overall importance of the exams remains significant.  Mrs. Bittle, Carterville High School government and geography teacher, gave her advice to the freshman. "Start preparing now and getting yourself organized. You will feel less hurried and rushed being prepared ahead of time."  Like Mrs. Bittle, many teachers are willing to help students prepare for these exams.  All teachers offer times during Power Hour for students to get extra help understanding difficult concepts.  Mr. Towers, one of the three freshman math teachers, explains his advice for the freshman. "For one, study twice as much on what you are worried about."  He continues,  "I really like the quote, 'By failing to prepare, you're preparing to fail,' which I just think applies to this pretty well." Towers also mentioned that if you work hard and give effort into preparation, it will all pay off.
Surprisingly, even the upperclassmen have advice they would share with the freshman.  Junior Ben Haake gave these tips for taking final exams for the first time. "When you start studying and preparing for your exams, you cannot let stress overwhelm you. The best thing to do is start early and not let yourself get too overwhelmed." As mentioned by Mrs. Bittle, Mr. Towers and Ben the best thing to do is start studying now. So, as the semester quickly winds down, it is time for the Class of 2023 to buckle down and conquer their first set of final exams.  Good luck everyone!
About the Writer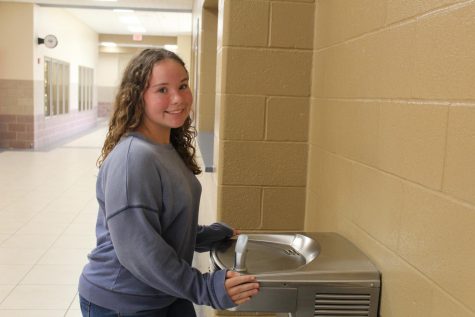 Kayce Glenn, Staff Writer

Kayce Glenn is a happy-go-lucky freshman at Carterville High School. She enjoys spending time with family along with listening to music and always...