Kasha Ward: A Driven Athlete
Hang on for a minute...we're trying to find some more stories you might like.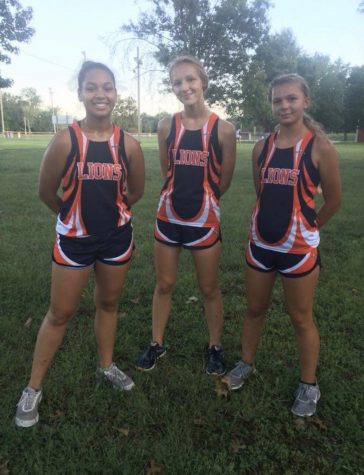 Following the CHS girls basketball team's overwhelming success this season, it causes many people to wonder, who will fill the shoes of this hardworking and dedicated team? Not only do the underclassmen on the team show the same hard work and dedication, but there is one player who truly stands apart and deserves the title of spotlight athlete. Kasha Ward, a new addition to the CHS basketball team, has shown not only her hard work and dedication on the court, but also in the classroom.
Kasha's commitment her first year at CHS truly defines the characteristics of a student athlete. As a freshman she has so far accomplished High Honors, 4.0 GPA, Top five on Varsity cross country, Varsity and JV basketball player, and an avid member of student council. She also plans on continuing her training with the track team in the spring.
"Kasha came to practice every day with the intent and motivation to not only improve, but also support the rest of her team. Her teamwork and determination really became crucial to our team's success. I can't wait to see what she brings next year,"explains her cross-country teammate Madison Fleege regarding her defining characteristics that makes her such an integral part of every team she joins. Kasha's success as a freshman varsity runner contributed to her cross country team's advancement to sectionals.
CHS cross country coach, Nancy Adams, describes the outstanding character and athlete she saw in Kasha throughout her first cross country season. She explains, "She is a very driven and determined individual who has goals and pushes hard to achieve them. She works hard for herself, but always keeps the end goal of bettering the team in the forethought of her mind." Coach Adams is excited to see what Kasha can bring to the team for the next three years and to see her only to continue and grow in both her positive attitude and sportsmanship.
While she excels in her running performance and is an outstanding addition, she intends on playing basketball in college. She wants to continue to improve her basketball skills and speed in order to achieve this goal. Kasha explains, "I understand all the hard work I have to put in if I want to achieve my academic and athletic goals. To me, basketball is not just about what you give in season, it is also what you put in during the off season as well. Putting in work not only gives me a role towards my team's success but helps me reach my goals and gives me a sense of pride. While I haven't achieved all my goals yet for my high school career, I've got plenty of time to pursue them all." Kasha not only reflects a well-rounded student athlete at Carterville High School, but also shows qualities and motivation to inspire her peers and teammates to continue improving and working hard everyday.