Almost Show Time
At Carterville High School, students will be putting on a musical called Guys and Dolls. The show will take place on April 12th and 13th.
Guys and Dolls, an American musical comedy, is set in the Depression Era in Time Square. Sky Masterson and Nathan Detroit, big city gamblers, make a bet that Sky cannot get Sarah Brown out on a date. Sky offers a date with her in exchange of bringing people into her mission, "rescue mission shower." Meanwhile, Miss Adelaide, who's been engaged to Nathan for 14 years, wants him to be more serious and marry her.
The cast for Guys and Dolls meets on Mondays, Wednesdays, and Thursdays from 3:30 to five. Guys and Dolls is directed by Lauren Arnett, the choir and theater teacher. Mrs. Arnett, the director of the musical, said, "This is my tenth show. It's neat to see kids practicing their lines and watching the show come together."
They haven't had much time to focus on the musical, due to the Valentines Banquet, although, now that Valentines Day is over, they are focusing all of their time on the show. The room is full of chaos. Some people are rehearsing their lines and and others are rehearsing their choreography. The cast only has a little over a month left before the show starts. Rebecca Flath, a missionary, says, "I'm looking forward to playing my clarinet fabulously"Scenes are being rehearsed over and over again, hoping to get it just right, and people are running around trying to get things done. One of the groups in the show are gamblers. Peyton Marks, a sophomore and one of the gamblers, says, " It's such a rush. 10/10 honestly. I love working with everyone for Guys and Dolls. I get to do a somersault over someone." Backstage props are being made and decorated. One of the props are pipes for the sewer scene and lamps.
As time grows closer to the show, the cast continue learning their characters and dances.Ashley Woolard, another missionary, tells "I'm looking forward to the signing and hanging out with my friends."  The music is coming together, everyone is having a great time, props are being made, and the cast is rehearsing. There is a lot of laughter backstage as well as in the front. Mrs. Arnett and the cast hopes to see you when the curtains open.
About the Writer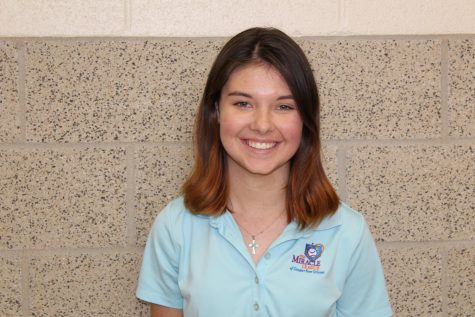 Julie Walder, Staff Writer
Julie moved here a year ago from the New Orleans area. Her and her family moved here because her father's work transferred them to Illinois. She has only...