Christmas is Back in Carterville
On December 7, 2018, Carterville, Illinois, welcomed Christmas with open arms. Shops started decorating and putting out stands for games and treats, and many families and friends gather all around to spend time together even in the freezing, cold weather.
There was lots of food provided by the fire department and other shops. There was kettle corn, cookies, soup and chili, and kids were able to write and mail letters to Santa. Freya Mohr, a German exchange student at Carterville High said, "the hayride was a lot of fun and also helping the kids was nice." The hayride lasted all night by driving up and down the main street. There was also games provided for the visitors, such as bean bag toss. Some booths even helped kids make ornaments for their Christmas trees.
The shops were buzzing with people. Christian Snuffer, manager of Irons and Fire and Live Simple Boutique says, "I think it's important that family and friends get together for the holidays. I love seeing new faces every year." Many businesses had booths set up outside their shops that gave out cookies and had arts and crafts. Additionally, a lot of Carterville High students volunteered during this event.  Ashley Woolard, one of the choir members, said, "the vendors sold great stuff, but I was mainly caroling the whole night. My favorite [parts of the night] were the soup from the cafe and all the snow bubbles."
Overall, it was a good night. Many memories were made with family and friends, and the event was great way to start off the holidays.
About the Writer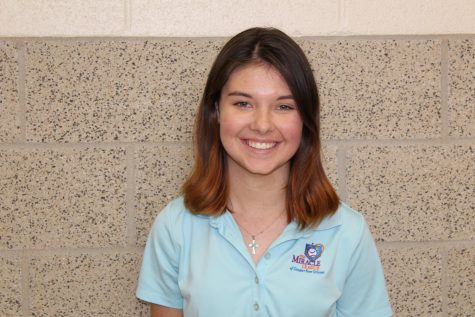 Julie Walder, Staff Writer
Julie moved here a year ago from the New Orleans area. Her and her family moved here because her father's work transferred them to Illinois. She has only...