A Day with FCCLA
Hang on for a minute...we're trying to find some more stories you might like.
On one windy day in October, the Carterville FCCLA (Family Community Career Leaders of America) members loaded up the bus and embarked on a memory filled day at SIUC. They were greeted upon arrival with a buffet style snack bar that included veggies, brownies, bananas and cookies. "I was super excited when I saw that they provided food, considering I did not eat breakfast that morning," Rebekah Stroud stated. Rebekah has been participating in this event since junior year.
The opening session of the event began with a quick inspirational message from Natalie Phelps Finnie, the representative of the 118th District in the Illinois House of Representatives; she expressed her views on how optimism can significantly impact our lives. "Negativity is like a cancer," she profoundly stated. One of FCCLA's missions is empowering the community, and Natalie emphasized that if we speak negative words about where we live, we're limiting growth and doubting change among us. She concluded that leading begins with positive thinking.
As soon as the keynote speaker took stage the tone of the room changed. Schools from all around Southern Illinois started to loudly clap and yell. No, this is not because Beyoncè or someone famous took the stage. All the commotion and excitement in the room resulted from a bag of pink starbursts being thrown around for correct answers on "Name That Explorer." He talked about a variety of his own life experiences including impactful hiking trips, and he urged all teens to explore the unexplored by stepping out of our comfort zones.
"I always look forward to the keynote speaker because it provides my members with motivational stories, innovative ideas and a good laugh," CHS' FCCLA advisor, Jennifer Schoonover, remarked. Many of the members' last activity was participating in workshops including campus safety, blanket knitting, and cookie decorating. "I really enjoyed having the opportunity to go to this event and learn a lot of good self-defense tips," noted senior leader Alexi Swalls. After the closing session ended, FCCLA loaded back into the bus for a highly anticipated lunch of Mexican cuisine.
About the Writer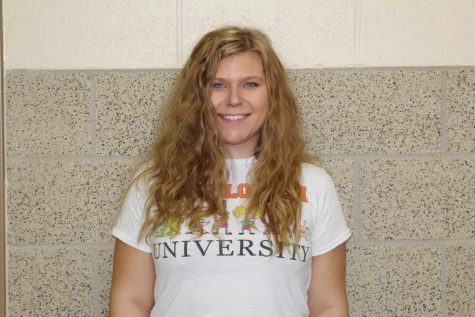 Ryley Bisaillon, Staff Writer
Ryley Bisaillon is a Senior at Carterville High School. She is outgoing, artistic, and enjoys hanging out with her friends. Ryley's laugh is extremely...