John A. Logan College High School Writing and Art Contest
On Wednesday, March 21, CHS sent some of its finest writers and artists to the John A. Logan 30th annual High School Art and Writing contest. In late January, students had sent in their pieces in either the writing or the art contest. High Schools from all around Southern Illinois entered. First Place works received fifty dollars, second place received twenty-five dollars, third place fifteen dollars, and Judge's Choice received ten dollars.
For the beginning of the day, the writing and art students split up based upon what they entered. The writing students were asked for volunteers to go up in front of the rest and write a poem based upon a prompt, then read it to decide whose was the best. The catch? The poems had to be finished in only minutes, and for each round, the time decreased. The prompts followed a theme, and this year, that theme was memes. It was certainly amusing to watch people attempt to write a poem about spongebob! In another room, the art students were asked to create a sculpture that represented energy from only paper clips, a cone, and a sticky note.
From there, the students moved to the auditorium. Before the winners were announced, there was a panel of instructors from John A. Logan for a creativity workshop. An English professor from the college spoke about his creative poetry writing process, while an Art Professor explained what inspires her to make art.
After the panel, the art contest winners were announced. "We had six students enter work; each of them won something, [and we had] seven awards overall. [We had] four first place finishes, and in one category, 2D other media, we swept… first, second, and third." Winners from Carterville include Seniors Cole Moore, Brock Mills, Olivia Savka, and Madelyn Houston, as well as Junior Kathryn Threlkeld.
Following the art contest announcements, the winners for the writing were revealed. Winners from Carterville included Junior Neha Arun and Sophomores Sara Kiel and Sophia Maring. The John A. Logan College High School Writing and Art Contest is an excellent way for students to showcase their work and creative exploits. Even those who did not win were able to put their work in the world. Congratulations to those who won!
About the Writer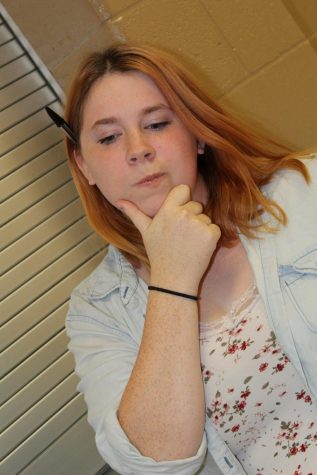 Megan Horner, Editor-In-Chief
Megan Horner is a Senior at Carterville High School. Her hobbies include art, photography, poetry, and literature. She is the Editor of The Sphinx and...