In the Artistic Spotlight: Taylor Wallace
Behind the scenes of Taylor Wallace
Hang on for a minute...we're trying to find some more stories you might like.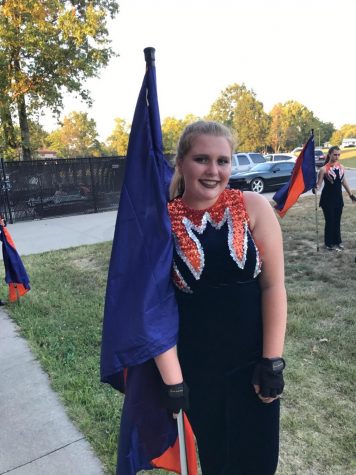 Captured by: Melissa Wallace
This is behind the scenes with Taylor Wallace. Taylor is a sophomore at Carterville High School and is on Carterville's color guard team. For two years, color guard has been Taylor's passion. To Taylor, color guard is like a second family. When asked if performing in front of big crowds was nerve wracking , she responded, "Before competitions and performances, it can be nerve racking; however, the pep talks we have before we go on are fantastic! They help so much!" Taylor strongly encourages anyone interested color guard to join the guard family!
Outside of color guard, Taylor enjoys reading. "I love fantasy books," she replied when asked what she enjoyed reading the most. "The Mortal Instruments series by Cassandra Clarie are my favorite books!" she loves to write and paint as well. "Writing helps me to think. I can make up my own world and go there whenever i need a break." said Taylor. Taylor enjoys many thing in her life and believes you should too.