A Pygmalion Play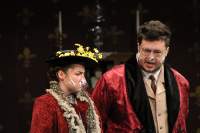 The curtains close on yet another successful CHS fall production. Pygmalion, a production written by George Bernard Shaw back in 1913 was this year's choice. Directed by Mr. Herbst CJHS English teacher and Mr. Hall high school history teacher, the play follows the story of Professor Higgins
(Nathan Rogers) who takes on the challenge of helping Eliza Doolittle, Amelia Booker and Grace Arnett ,a poor women with poor speaking habits, prove that he would be able to take a women who could never be associated with the upper class and make her into a duchess. The play came to life on the 19th through the 21st of November for the audience to enjoy. 
This was the first time people were able to go into the auditorium to watch a production since Covid-19. With last year's play being recorded and the musical being held outside. The cast and crew worked for months ensuring that the audience would be captivated with their performance. This year's leads were Nathan Rogers along with Grace Arnett and Amelia Booker. This was Nathan's first time having the main lead in a CHS production. Amelia Booker when asked about her experience said "I love doing the play because there are so many bonds created during such a short period of time. We are all working toward the same goal, and want the best for each other. There really isn't anything as fulfilling as putting your time and effort into something as a team and being so proud with the outcome." 
This was a very important play for the seniors at CHS since this will be the last fall production for the ones who participated. Nathan Rogers (12) did a good job at capturing what most seniors were feeling about their final fall performance , "I'm sad to see everyone go, but I really enjoyed myself throughout the years. It's something that not a lot of people get involved in but should." 
One of the aspects that get overlooked is the crew! Without them the play wouldn't have gone as smoothly as it did. Crew member Stephanie Leonard (10) shared her experience as a crew member "Last year the play was recorded so this year's crew had a lot more fun. It was a great experience and I had a lot of fun and made some new friends."
Overall, this year's production of Pygmalion definitely was a success with the help of the cast and crew. It was a beautiful representation of Bernard's original writing that captivated the audience throughout the entire play.