Eli Downen: 14th Boy in CHS History to hit 1,000 Points
Eli Downen finished his high school basketball career at Carterville by exceeding 1000 points. Following the final CHS boys basketball game at home, Downen told WJPF's Dave McKenzie, that when the season began he had no clue that he was so close to the 1,000 point mark. During a live stream broadcast, the WJPF broadcasters announced Downen's career points and his mom was the one to mention his stats to him prior to the start of the game.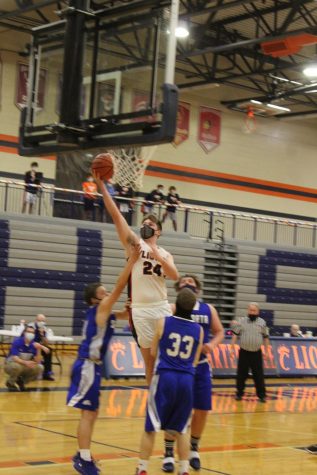 Even though Downen was the only teammate to hit the 1,000 point mark this year, he said the team "supported me throughout the whole thing and they were just as excited as I was. It was a really great feeling and I'm glad I could join the other list of names that were able to surpass the 1000 point mark." 
While Downen and the Carterville fans thought it would be in an earlier game, he stated that it gave him confidence entering the final game of the season knowing, with only four points needed, he would achieve this honor. Downen became the 14th boy in CHS history to exceed 1,000 points.  The last boy was Austin Swalls in 2016.
Downen and fellow seniors Bryce Anderson, Max Poole, Jake Hixson, Ben Haake, and Taylor Seimer had their first winning season, with an overall record of 11-4, and conference record of 6-4.   
From Bryce Anderson having the most rebounds and points, including the late basket to win by 1 point over Centralia, on their court, to Max Poole scoring five 3-point baskets in one game, the season was full of great moments.  The Lions Basketball team's chemistry and comradery was noticeable all season long.  Coach Hawkins credits this group of seniors for creating a strong foundation for their teammates to have winning seasons for years to come.