A Nine Story Tragedy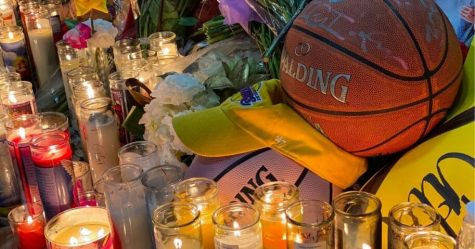 It was a foggy Sunday morning when a Sikorsky S-76B helicopter fell from the sky. The helicopter crashed into a mountainside in Los Angeles California while carrying 9 passengers, two of which were the famous Kobe and Gigi Bryant. 
Yaron Steinbuch of the New York Post explained, once the helicopter hit the hilly landscape it was torn apart and set up in flames. It was clear to witnesses that there would be no survivors. 
Although Kobe and Gigi have been a devastating loss for the country, seven other victims also lost their lives; their names have recently been released to the public. Among the fatalities were John, Keri, and Alyssa Altobelli, Christina Mauser, Ara Zobayan, and Sarah and Payton Chester. 
These people were important members of society as well and should be recognized with the same amount of respect and value as the lives of the Bryants. 
John (56), Keri (46), and Alyssa Altobelli (13):
John Altobelli was a sports advocate himself, coaching the Orange Coast College Baseball team for over 20 years. He was even named National Coach of the Year in 2019. 
His daughter was a fun loving individual who also took up a passion for sports like her father. The Los Angeles Times' Staff reported, "Alyssa played on the same youth basketball team as Gianna Bryant," and was close with her teammate having been in a helicopter with the Bryants multiple times.
John (56), Keri (46), and Alyssa (13) all had to leave this world far too early, leaving behind their other children and siblings. 
Christina Mauser (38):
A dedicated coach, a loving mother, and a supportive wife; these are the traits that make up Christina Mauser. Many of her close family and friends described her to the press as an extraordinarily funny person, and an even better friend. 
Christina worked hard as a PE teacher at the Harbor Day School, and was discovered by Kobe Bryant while coaching a basketball team with her husband. 
The Times Staff explained that when her family heard the news, her husband heart-brokenly reported , "It's horrible. I've got three small kids and I'm trying to figure out how to navigate life with three kids and no mom." 
On the night of the accident, the family lied together in bed while all the news coverage focused on Bryant's death as they tried to cope with their freshly wounded hearts, riddled in grief. 
Ara Zobayan (50): 
Ara, Kobe Bryant's private pilot, was a reliable man. He was there in times of need for anyone who called his name. 
Zobayan never partook in risky flying and made sure that he knew his area of flight well. Joshua Bote and Tom Schad of USA Today collected information from the Federal Aviation Agency that states, "Zobayan had been a licensed commercial pilot for more than a decade…which permitted him to fly in poor weather conditions." 
The foggy weather inhibited Ara's capabilities but not his experience. Daren Kemp, one of Ara's students told USA Today, "(Kobe) doesn't let anyone else fly him around but Ara." proving that Zobayan was a trusted professional and did all he could to protect his passengers. 
Sarah (45) and Payton (13) Chester:
Sarah and Payton were two peas in a pod when it came to their love for family. Their peers shared that they both valued family more than anything and dedicated themselves to their loved ones. 
Sarah was proud of all of her kids and Payton was a very talented young lady who gave her everything on the basketball court. Their family will treasure their love forever and will mourn the loss of all victims of the tragedy. 
Carterville students have been distraught over the passing of Kobe and his daughter but few consider the families of the other victims that were forever changed by the accident. Jayln Holt-Obrien argued, "I understand that it is sad that he (Kobe) died, but it is terrible that people are only focusing on him when he had a daughter and friends on the helicopter." 
Another CHS student spoke out and described what she learned from this experience: Sammie Price (12) exclaimed, "It's so sad and makes you think about how you need to live in the moment. It's a choice to be angry but you can also choose to be the bigger person." 
Whether or not you are a fan of Bryant, it can be agreed that the crash was a devastation to the entire world. The people, although not all NBA stars, were all just as important as the next. They were all part of the game of life and have been connected by this tragedy and the morning of the nation. 
Kobe, Gianna, John, Keri, Alyssa, Christina, Ara, Sarah, and Payton were amazing people lost in an act of God; they will forever live in the hearts of their loved ones and the hearts of Americans. May they rest in peace.