49ers Will Go From a High to an All-Time Garoppo-Low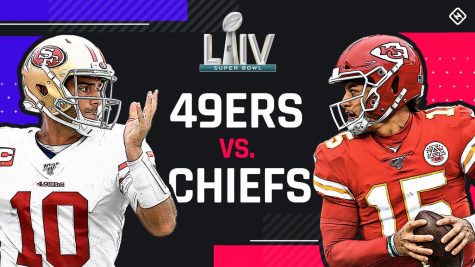 The Super Bowl in Miami is set to be a matchup of epic proportions. However, I believe the Chiefs will dominate the 49ers. The 49ers made their way into the Super Bowl by riding the shoulders of their running back, Mostert, along with his four touchdowns and 220 yards. The Chiefs stopped one of the best running backs in the league, Derrick Henry. Henry had great games against both the Patriots and Ravens in the wildcard and divisional rounds.
The fact of the matter is if they can stop Henry, there is no running back they cannot stop. Assuming they stop Mostert, Garoppolo does not have the ability to carry the team and go score-for-score with Patrick Mahomes. The 49ers defense may be elite, but they have not had to face a team with an offense like the Chiefs, due to the fact that there is not any other offenses like the Chiefs.
They have strong passing and running games. If you stop one, you sacrifice the other. There is no way for the 49ers to stop this electric offense from dropping 30+ points.
Sydney Stuck (10) expressed her feelings about the Chiefs by stating, "The Chiefs are gonna destroy the 49ers," and she has a point. The only way for the Chiefs to lose is to suddenly stop scoring, and bench their entire starting defense. The Chiefs have gained way too much momentum and have been playing totally dominant football.
They have been playing continuously better as this season has progressed, and there is no sign of them slowing down. Garrett Goddard (11) expressed his feelings on the 49ers by stating, "The 49ers are garbage. They rely too much on their defense and run game to be able to be able to defeat the Chiefs." My final score prediction is 49-28, with the Chiefs being on top.
The Patrick Mahomes and Tyreek "Cheetah" Hill connection always has been and always will be absurd, and I am predicting at least two scores off of this connection alone. I am also predicting at least one Chiefs defensive touchdown and a punt return touchdown. For the 49ers, I predict their scores will come off of a jet sweep with speedster, Deebo Samuel, and a long bomb to George Kittle, with all of their points coming in the first half. The other two scores for the 49ers will most likely be a defensive touchdown, and most likely a goal line rush. Overall, the Chiefs are gonna dominate the football game and come out with a win.