Ballin': Men's College Basketball Kickoff
Ali Lamb, Newspaper Staff Editor
November 21, 2019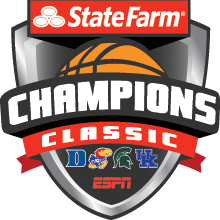 State Farm Champions Classic
November 5, 2019
Ali Lamb
The Champions Classic tournament occurs every year towards the beginning of November and serves as a kickoff for the men's college basketball season. Each year, the event features four of the top Division One (D1) college basketball teams in the nation: Duke, Kansas, Kentucky, and Michigan State. This event gets college basketball fans riled up and ready for the upcoming season; over 20,000 people attended the games this year!
The Champions Classic is a must-watch; every basketball fan loves it. It is not the biggest college basketball event of the year, but it is still exciting to follow because the powerhouse teams of the league go head-to-head. The plan, starting in 2011, was for the event to last three years, but due to the rising popularity of these games,  that plan was altered. Recently the event was extended through 2022 because of how popular it has become, which left basketball fans feeling pleased. ESPN's Senior Vice President, Pete Derzis, claimed, "We are excited to continue with this marquee event, as it has become a fixture on the college basketball landscape."
The team match-ups this year were Duke vs. Kansas and Kentucky vs. Michigan State; both were really close games. To kick off the event this year, Duke faced Kansas at 7:00 PM. Losing one of their most well-known and strong players, Zion William, last year, many people doubted Duke's ability to win the game. Duke pulled through at the end of the game and won by one shot, making the final score 68-66. Soon after, Kentucky took on Michigan State at 9:30 PM.  Kentucky beat Michigan State 69-62: another close game.
While the outcome of the Champions Classic games was surprising, many are blaming it on the newly expanded three-point line. However, this was not a good enough excuse for Michigan State's loss to Kentucky. Michigan State was the number one seed, which means they were expected to win by several people.  CBS Sports reviewed the match-up, "The No.1 Michigan State Spartans will look to stay on top when they open their regular season against the No.2 Kentucky Wildcats in the 2019 Champions Classic at Madison Square Garden."
While the Champions Classic does kick off the men's college basketball season, it does not define what the rest of the year entails.  These are only four teams out of many that will be playing this season, so stay tuned. Also, injuries could easily ruin a team's success. There is still plenty of basketball left to play for the 2019 season.
About the Writer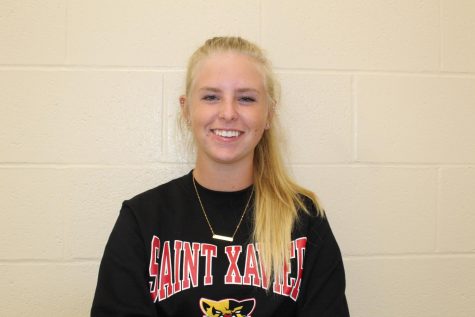 Ali Lamb, Newspaper Staff Editor
Ali Lamb is a senior this year. If you ask her what food she wants, the answer will always be either "I don't know" or "Mexican." You can always...