Christmas Clashes, Holiday Harmonies, and Seasonal Sing-songs: The Carterville Christmas Song Debate
Hang on for a minute...we're trying to find some more stories you might like.
It's around that time of year again! Snowflakes are drifting through evergreen trees, lights glow from cozy houses, and hot chocolate sizzles from seasonal mugs. There are numerous aspects of Christmas and the Holiday season that bring family and friends together: Christmas music, and, in  schools around nation, the debate that follows.
There is much debate around Carterville High School about which Christmas song is the best. The arguments were so fierce, the hallways so angrily clustered, that a final decision had to be made for the student body. So, the Sphinx decided to partner up with Ms. Bolling's study hall classes and end the wretched debate once and for all.
The classes were given four songs to pick from: All I Want For Christmas Is You, Last Christmas, Jingle Bell Rock, Santa Baby, Santa Claus Is Coming To Town, and lastly You're A Mean One Mr. Grinch. These songs were included because they best sum up the Christmas spirit, and, most importantly, nearly everyone knows them.
After waiting anxiously (there was much hand-wringing, I assure you), the results finally came in, triumphantly declaring Mariah Carey to be the champion!
 

All I Want For Christmas Is You with 99 votes 

 

You're A Mean One Mr. Grinch

with 81 votes

Jingle Bell Rock

with 48 votes

 Last Christmas

with 35 votes

 

Santa Baby

with 23 votes

 

Santa Claus Is Coming To Town

with 20 votes.
Though All I Want for Christmas Is You is the winner, there are some who still refute its superiority. "The Grinch was clearly the winner. All I Want For Christmas Is You is cute, but The Grinch Song offers…variety," said freshman Kami Glasser as to what she thought of the results. Though all Kami wants for Christmas is for her song to win, Mariah Carey's Holiday hit is what clearly has stolen the hearts of CHS. Hopefully, she won't be a Grinch about it!
So as Christmas approaches with the same speed as the end of a festive tune and the weather grows steadily colder, gifts are wrapped in shining paper, ornaments glitter from emerald branches, and Christmas music flows through the air steadily, reminding us of home, comfort, and family.
About the Writer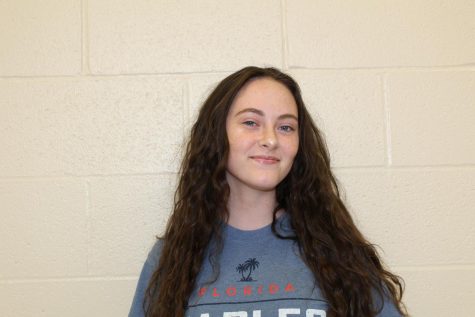 Raegan Lewis, Staff Writer
Raegan is a Carterville High School freshman who likes to sing, participate in theater, and put on almost too much highlight. She also enjoys watching...