CHS Chats: Vol. 4
Hang on for a minute...we're trying to find some more stories you might like.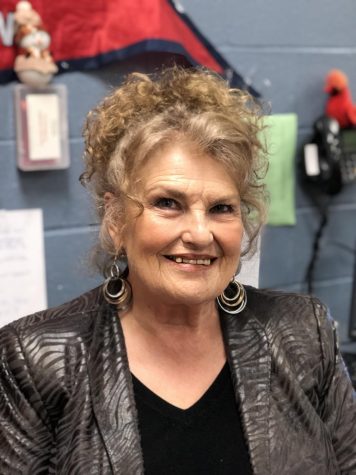 Bolling's Bartlet:
"No one can make you feel inferior without your consent" -Eleanor Roosevelt
In this edition of CHS Chats, we are travelling deep into the English wing to visit Carterville High School's most interesting study hall supervisor, Ms. Bolling. Here's the inside scoop on the teacher of all teachers, Cindy Bolling:
Teacher, avid reader, karaoke enthusiast, cooking connoisseur , and the list could go on and on.

Try naming something she has not taught, or something she has not done! That's right, you can't. Ms. Bolling has taught it all: English, reading, writing, science, government, history, math, and communications. There seems to be no subject she can't excel in, and none she isn't passionate about. 
She is an avid learner, always reading and searching for new information and facts to share with her high school students. While Ms. Bolling supervises High School students in her study hall classes all day for five days a week, she still leaves time to do the things she feels are most important. Many of her biggest hobbies include: singing, reading, crafting, cooking, and gardening.
Her favorite song to sing along to is "Girls' Night Out" by The Judds. As a lover of music, she often partakes in karaoke, whether in her own house or at an event.
Ms. Bolling also enjoys reading on a daily basis, claiming to never go to sleep without it. Her favorite genre to indulge in is mystery, and she is often able to solve the mystery before the novel is even resolved. As for particular novels, her favorite is Rebecca by Daphne du Maurier and she claims the novel spurred her love for mysteries.
Another pastime Ms. Bolling often participates in is crafting. When asked about her reasoning behind her passions with crafting, she explained, "I love to create something beautiful of materials that might be thrown out otherwise."
Her last and most favorite hobby is cooking. Whether she's alone or with her daughter, she exclaims just how "happy, happy, happy" she is to be in the kitchen. Being such an enthusiast of cooking, Ms. Bolling spoke with us about her favorite dish, "I make a mean pot of chili," she said.
Not only does Ms. Bolling have a passion for her many hobbies, but also for school. She explains school when she was a student,"Everybody loved school. It was a time for us to be together. Our class was extremely close." Compared to her time in high school, students today often lack this excitement for school. Everyday she fears to see less and less students with a passion for attendance and education. She encourages her pupils to continue learning and growing everyday, and she is always sure to teach them the most she can with the time she's allotted for each class.
She continually offers guidance and assistance to all, truly displaying just how much she wishes to see them succeed. With a school full of passionate teachers and learners just like Ms. Bolling, it isn't hard to understand why Carterville High School's academic achievements are so numerous. Educators like Ms. Bolling guide and encourage students like me to challenge myself and truly live up to my potential.