Tag, You're It!
Hang on for a minute...we're trying to find some more stories you might like.
TAG. The game that most of us have seen the group of junior boys running around playing in the halls, the parking lot, and in half the student body's Snapchat stories. John Weihman, Toby Farrar, Rafe Tuttle, Jacob Gwaltney, and Garnett Peach are the five boys playing the game. The boys went to extremes to tag each other. They went through each other's sun roofs, tagged each other while they were sleeping at home, and even disarmed their house's security systems and broke into their house. 
The boys' game is based on the movie TAG, starring Jeremy Renner, Ed Helms, and Jon Hamm. The movie is about a group of five friends who went to school together who have played a game of tag one month of every year since they were nine years old. The only player who had never been tagged was Jerry who is now getting married. Jerry tells his friends that he plans to retire from the game after his marriage so the guys try to tag him one last time while they are all back home for his wedding.
The real life game that our classmates have been playing has a clear set of rules. These rules are as follows:
Tag occurs for one week during the school year (AKA Tag Week) and the duration of the month of June.
No tag backs.

Amendments must be made with all members present.  

During tag week a truce is in effect through power hour (11:32-12:32)

If directly asked if you are it, you must tell the truth

Specific truces set for a set amount of time may be made by the person that is "it" with another player to allow for peaceful interaction, such as hanging out

No collusion allowed
The game has not only affected the players and their friends, but also one of the players' relationship with his girlfriend. The couple in question is Toby Farrar and Audrey Snyder. Toby feels that the game has not affected their relationship a lot other than the fact that it "made it difficult to walk her to class" at school. However, Audrey had a different opinion. Audrey said that she, "felt like [Toby] was on edge all the time, constantly locking [them] in the house and always going somewhere, doing something, or trying to tag someone."
When the boys were asked who they thought the worst player was, the general consensus was John. Whenever they were asked who the most invested player was, every one of them immediately said Garnett, which he also admitted to.
Toby gave some insight on the purpose behind the game for them by saying, "It will give us a reason to always stay in each other's lives." Garnett said that they would play the game, "until death do us part, and then in heaven." The boys' game will hopefully keep them close, even after high school. They have been very close throughout the years, and they will most likely maintain their friendship after high school even if they didn't start this tradition. The game should give them a fun way to stay involved in each other's lives.
About the Writer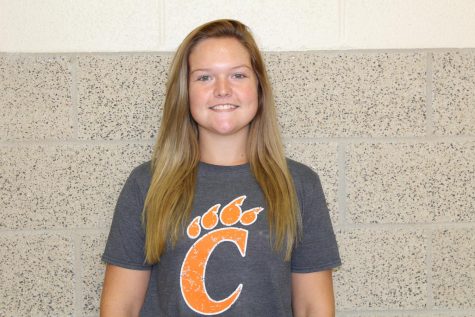 Tomi Boggess, Writer
Tomi Boggess is a junior at Carterville High School. She loves to play softball and spend time with her friends. Tomi enjoys being involved in her school....