The Boys in Blue: The Last Ride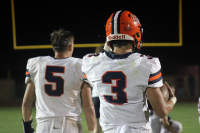 The senior boys football team members are off to a great start to the season with a win over Benton, Herrin, and Murphysboro. This year there are 15 seniors on the team including several four year players and reappearing players. The team has a great atmosphere and chemistry led by a large senior class.
Early in their high school careers, the football class of 2023 had a very successful season. During their freshman season, they went undefeated with many blowout wins.  Senior quarterback, Andrew Hellriegel, reflects on their first high school season by saying ¨We were very dominant our freshman year when we gained a lot of new players to our program. We had a lot of talent that season and a lot of talent still returning our senior year.¨
One of the many returning players this year is senior, Kade Lustenberger. Lustenberger took a two year break between his freshman and senior seasons. Lustenberger said, ¨I'm just excited to get back out there with my friends. I haven't played since freshman year, and I didn't want to graduate knowing I could have played football and had a really successful season.¨
The senior class started their freshman season with 26 players from their class, and are now down to 15 players. However, the boys are still having a successful season with a record of 3-0. Senior Talon Walker also said the game he was looking forward to the most was,¨ definitely Murphy week because they´re our hardest game week, and they have the best competition that we face in the pre season.¨ This past Friday, the Lions rolled past Murphysboro with an easy win of 49-28.
Although the senior class lost many players throughout their four high school seasons, they still have all the tools they need to be a successful team on the field. Senior Blake Burkey thinks that this season will be just as successful as their past seasons, ¨I absolutely think we will have that same success. We have all gotten a lot taller and stronger, and have continued to develop our skills throughout our four years as a player.¨
The Lions have had a very successful season so far and are hoping to make a run in the playoffs. With the leadership of the senior class, the Lions are in good standings to make this a long and successful season.