It's Beginning To Look A Lot Like Christmas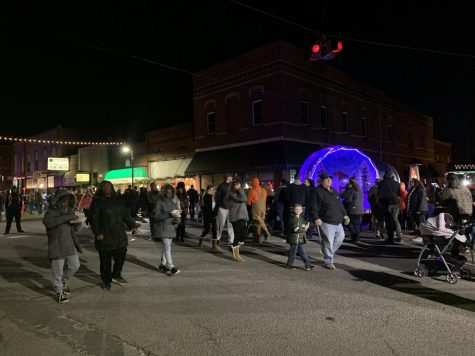 It's that time of the year again to drink hot cocoa, bake cookies, set up the christmas tree, wrap presents, and many more. It's time for Christmas festivities to begin! With the holidays up and coming, Carterville celebrated their annual Christmas in Carterville on December 6th. Many people gulfed the area as the event went on for three hours. With that being said, there were many festivities that many families could do.
One of the activities that the families could partake in was the elf station. Many students volunteered to dress up as elves, and help the children write letters to Santa Claus. Junior Ally Lyell expressed her excitement with helping the event by saying, "it was a blast. All of the kids were super excited to write their letters with me and asked many questions about my life at the North Pole. I went along with the idea, which resulted in a magical experience for the kids as well as parents who were watching."
Another activity that many families gathered around for was the cookie decorating station by the fire station. The cookie decorating station was an activity that was set up by the school's Interact Club. Many students volunteered to help decorate cookies and give them to families or children who were passing by. Junior Annabelle Barnstable, also the Interact Club's secretary, stated her enthusiasm by exclaiming "working at the cookie station for Interact Club was so much fun! I got to help and talk to many little kids, and had the opportunity to give them sugary treats, which always put a smile on their face."
The most popular station that the families flocked to was the duck drop station. The duck drop station was hosted by the Carterville Fire Department. How the station works is that a fireman gets on top of a firetruck, then climbs all the way to the top of the ladder, while holding a basket of rubber ducks. When the ducks are dropped, numerous children search for a "special duck" that they bring to the prize desk to win a gift. 
Christmas in Carterville is always a spectacular time for many families and locals to come together, and enjoy the Christmas festivities that are provided. The event brought many smiles and joy to peoples' faces. In addition, the Carterville High School Publications would like to wish everyone a safe and wonderful holiday season!