Seniors Last Spike!
Anna Hartford, Staff Writer
December 8, 2017
Filed under Sports
Hang on for a minute...we're trying to find some more stories you might like.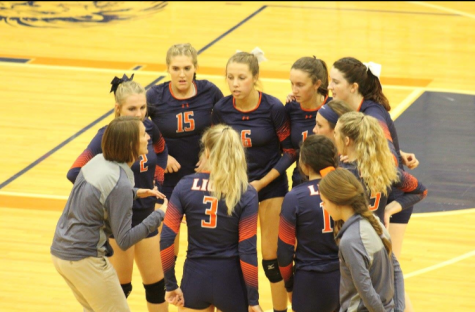 CHS Volleyball season has come to an end
The 2017 CHS Volleyball season has come to a close. At the beginning of the season, the Lady Lions hosted a cancer game at home against the Anna- Jonesboro Wildcats. The cancer game was held on October 3rd and was a huge success. The team raised $2,500 that will go towards the Austin Wade Foundation. Austin Wade was a student at Carterville High School who passed away in 2012 due to brain cancer. This was the team's way of contributing to him and to the fight against cancer. The Lions also played a few more games prior to the postseason against Nashville, Pinckneyville, Murphysboro and Sparta. Before the end of the season, the Lady Lions had two more tournaments that were played at Marion High School and Fairfield High School. Carterville had one player make the All-Tournament Team at each tournament. At the Marion Tournament, the player who received the award was Montana Taylor (Senior). At the Fairfield Tournament, it was Ashlyn Mavigliano (Junior). The last home game of the season means senior night for the volleyball team. The game was held on October 17th versus Sparta. This year, the Lions had four seniors on the team: Kaity Hixson, Montana Taylor, Olivia Savka, and Hanna Schulmeister. Each senior made contributions to the team in their own way. Kaity and Montana both contributed by having the top hitting percentages and kills for the team. Hanna went through many position changes this year and was able to do well in every one. Olivia and her mother made a fantastic contribution by organizing the cancer game and designing the t-shirts and the jerseys that the team wore. The Lady Lions finished with a record of 15-21 for the 2017 season.